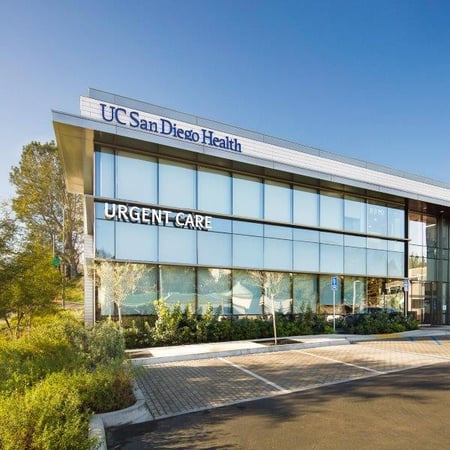 UC San Diego Health – Villa La Jolla Drive
8910 Villa La Jolla Drive
US
Address
8910 Villa La Jolla Drive
US
About Our Clinic
Urgent Care Services Limited Today
Our Urgent Care services are severely limited today due to an internet outage. We encourage you to save your spot online at our Express Care clinics if you need care today.
The medical facility is home to outpatient clinical offices of UC San Diego Health Imaging and Radiology, Lab Services, Midwife Services, Obstetrics and Gynecology, Women's Reproductive Mental Health, and Pediatrics. Prenatal appointments with a certified nurse-midwife are available. We see patients until 8 pm on Wednesdays at our Obstetrics and Gynecology clinic.
Saturday appointments are available for Pediatric Care. We offer same-day and next-day appointments for fever, respiratory or ear infections, rash, headaches, injuries, gastrointestinal issues, urinary tract infections, and other conditions. For online medical records, see Rady Children's MyChart.
On the first floor, our Urgent Care clinic provides walk-in medical services, including X-ray and Lab Services. Walk-in lab hours are Monday to Friday at 7 a.m. to 8 p.m with the last patient check-in at 7:30 p.m., and Saturday to Sunday from 8 a.m. to 12 p.m.
The building received LEED Silver certification by the US Green Building Council.
Visitors
See Restrictions for Clinics for detailed visitor guidelines.
Parking
Parking fees are $4 for the first 2 hours or $8 total for the day after the first 2 hours. Once you arrive, you will have a 20-minute grace period to pay online at www.lazparking.com or by scanning one of the available QR codes throughout the parking area. Disabled parking remains free of charge and requires the display of an ADA placard in the vehicle at all times.